FROM GIBRALTAR TO CANARY ISLANDS:
30 DAYS AT SEA (AND LAND)
Part 3
Casablanca & Interior
On the third day the hazy skyline of Casablanca showed up on the horizon. The 150 miles distance took 50 hours; with about two-thirds of that covered by motoring. During one of those windless nights we were motoring through a chain of fishing vessels. These brightly-lit fishing boats are spread out over miles of water and are impossible to completely avoid. As we sailed between these boats, something fouled the propeller, and the boat gradually slowed from 3 knots to 2 knots and then finally to drifting speed. The low speed was insufficient to provide steerage for the small rudder run by the auto pilot, and after a while the auto pilot overworked and wore out the driving belt. Not long after that, the diesel engine overheated and also broke its belt. Fortunately, the fouled propeller eventually worked itself free, and after Allen replaced the belts, we completed the last miles to Casablanca.
Casablanca is Morocco's largest commercial city. The port is a huge walled facility with seven large loading piers, each pier large enough to accommodate hundreds of container trucks. We sailed around and around looking for docking space for pleasure crafts. The whole portland was a beehive of activities – big container ships and ocean freighters unloading, passengers disembarking from cruise ships, fishing boats heading back with their morning catches. However yachting facility was non-existing, and the only area we were allowed to anchor was at the farthest pier. Going into the city involved a 5 minute dingy ride to get to the shore, and then a 45 minutes walk to get out of the port gate. The shore of this pier was strewn with garbage and concrete wastes, and several large ships were lying aground, long abandoned and slowly turning into rusting heaps. This is an unlikely vacation spot.
<![if !vml]>
<![endif]>
The next morning we cleared customs and obtained our shore papers to get into the city. Moroccans have a different concept of customer service – it took us two hours at a deserted customs building inside the Portland to get our papers. We took a taxi to drive into town. The driver told us the fare was to be 10 Durham's (equal to about 1 Euro). When we got there we insisted he told us 10 Euros. The game was to be repeated many times in Morocco – taxi drivers, tour guides, street hustlers – all trying to charge tourists five to ten times the local rate.
<![if !vml]>
<![endif]>
The Hassan II Mosque is a magnificent masterpiece of architecture. Built by the ocean-front and about 30 minutes walk from the city center, the mosque soars over 200 meters into the sky. The huge ceiling of the mosque is designed to slide open like a sports stadium, and the main hall can hold 25,000 worshippers. A vast square decorated with star-shaped fountains surround the mosque. The Atlantic crashes onto the seawalls below. Granite patterns built into the floor of the square hint at religious symbolism. The Moroccan design of decorative inlay with colorful ceramic tiles can be seen everywhere, with a signature scheme specially selected for this mosque: Turquoise, the color worn by the prophet Mohammed, symbolizes hope; white, the Islamic color of peace; blue, the color of the religious city of Fez; and brown, the color of Sahara.
<![if !vml]>
<![endif]> <![if !vml]>
<![endif]>
<![if !vml]>
<![endif]>
On this sunny Wednesday afternoon there were only a handful of faithfuls praying inside the dimly lit hall. Non-Muslims are not allowed inside the mosque, but we could peek through the large gates built of titanium and bronze. The sound of the lead prayer echoed in the vast chamber, off huge marble clad columns rising some 20 meters into the ceiling. The Atlantic could be heard crashing onto the seawalls below.
Searching for sceneries different from the large cities, I traveled 250 km inland by bus to the ancient city of Meknes. The modern four-lane highways were well maintained and inter-city buses were efficient and inexpensive. Leaving the coastline behind, the landscape soon became more arid and hilly. Vegetation was sparse, with the occasional green patch decorating the countryside of brownish sand dunes. Carved out of arid land overlooking a strategic valley, Meknes was founded in the 10th century by Moulay Ismail, the second king of the Alaouite Dynasty. Ismail was a tireless builder who ordered the construction a walled city that was designed to withstand a 20-year siege. Much of those works of wonder still stand today: A large man-made reservoir that provided drinking water to his large army and horses; a huge underground granary built to store enough grain to support the 12,000 horses in the royal stable, with an underground water duct pumped to keep the grain cool and from rotting; a special stable for his 1,200 purebred Arabian horses had pillars of stone columns built in beautiful, perfect geometric symmetry in three directions.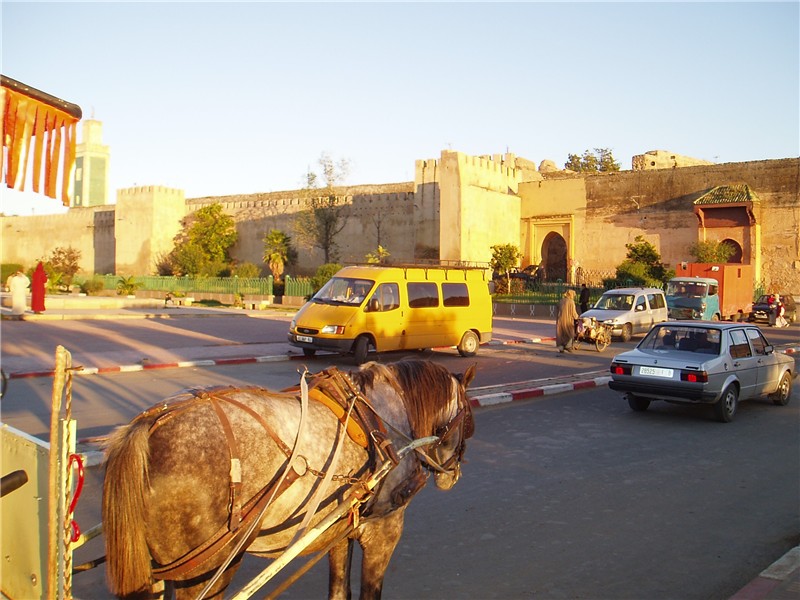 The map I took from the local tourist office was of little help when I looked for a hotel, as streets ran in all directions and street signs were mostly non-existent. Finally I gave up and took a room at the Rif Hotel in the center of town, a 3-star hotel with reasonable accommodation. The hotel seemed mostly empty except for a handful of German tourists. But this is a lively city. At 5:00PM the streets were packed with people coming home from work and buying groceries. By 6:00PM, as if a switch was turned, the streets were completely deserted. Shops closed their doors and turned off their neon lights, chairs of sidewalk cafes were stacked away. The night time temperature is much cooler here in the mountains, the desert air brisk and clear, the sun setting in a rich, deep hue of orange-red. And then at 9:00PM, the crowds magically re-appeared, the streets filled with people of all ages visiting shops, seeping coffee at cafes with tables overflowing onto the sidewalk, or buying roasted nuts from street vendors.
But this lively street scene, while delightful, was really not much different from any busy western city. Just as I was wondering whether there was anything unique about Moroccan nightlife, perhaps something like the Rick's Café in the movie Casablanca, I found it right at the hotel that I stumbled into. After a so-so dinner at the hotel restaurant in Rif, at about 9:00PM a 4-man band shows up and takes the stage. They use two electronic synthesizers to flawlessly produce the sounds of traditional instruments such as the flute, mandolin, and accordion. There are also saxophones and drums. The music is wonderfully rhythmic and fast paced, evoking some erotic belly dancing and snake dance. The band members are enjoying themselves and are playing free-style as they go – a sort of Arabian jazz. After a while a band member begins to sing. In a smooth, high-pitch voice that is neither male nor female, the singing blends with the music, alternatively rising and leading, and falling and fading into a murmur. It's the kind of music that one might hear when passing through Toronto's ethnic neighborhoods and never paying much attention, but hearing it being played by a live band in front of an appreciative audience, here in the ancient city of Meknes, somehow puts everything wonderfully into context. The spacious dinning room is only one-third filled, with one table of German tourists who quickly exit, and the rest are locals of all ages – young people in western attire, middle age businessmen in long Arab robes, and beautiful women with long black hair and ivory skin, in a smoke-filled room enjoying drinks of coffee, juice, or liquor. It is a quiet crowd, occasionally clapping, but the dance floor is left empty. The music continued well after midnight.
The next day I went in search of an old palace that was a UNESCO designated heritage site. The Riad hotel and restaurant was once part of the imperial palace of Moulay Ismail, and his direct decedents still live here and manage the small hotel. The hotel was located somewhere deep inside the old walled Medina and finding it was a challenge. Through a chaotic and meandering maze of narrow streets, shoulder-to-shoulder crowds, darting between taxis and packed buses spewing black smoke, and the occasional horse-drawn carriages, eventually you find hand-written signs of the hotel with an arrow pointing which way to turn. The streets get narrower and quieter. More signs, more turns, and just as you wonder whether the signs are authentic and whether they lead you to some dangerous traps, there's finally a small sign that says Hotel Riad above an unimpressive wooden door. The door is opened a crack; you push it open and enter into a lush courtyard with climbing vines and a small flower garden. The door slowly swings back and all the street noise is shut out behind high stone walls that once guarded a palace. A stone path leads through the courtyard; sunlight floods down through wooden terraces.
<![if !vml]>
<![endif]>
A narrow set of stairs leads to an open patio with dining chairs and tables around a herb garden, and a formal dining room with large French doors overlooking the garden. Another turn down a darkened alleyway, a small door leads upstairs to the living quarters, large rooms with a canopy-covered queen size bed. A window overlooks a sunny courtyard, flanked by two small windows of stain glass. Walls are covered with moldings handcrafted with intricate patterns in relief. Moroccan rugs cover hand-laid tile floors.
Breakfast is included. You get thick, freshly baked round bread on which you spread butter, jam and honey. A large pot of strong, hot coffee and steaming milk to make your own café latté. Baked eggs in a ceramic bowl, slightly scrambled with the sides crispy and the middle soft, flavored with sea salt, pepper and herb. This place is truly fit for a king!
<![if !vml]>
<![endif]>
A few days later we finished exploring Casablanca and left the anchorage at noon for the final leg to Canary Islands. Right in the middle of the harbor, as we were slowly motoring out, the boat hit something hard on the bottom. A loud crunch, and the boat almost came to a stop. Looking down, clearly visible through the greenish water, there was a sunken wreck. It was low tide and we probably hit the top part of the wreck. We were certainly glad that Wallaby has a steel hull!