The village of Killarney has a small city center comprised of a single street along the Killarney channel. Marinas line both sides of the narrow channel, and many large yachts are docked here. There is a concrete boat ramp next to the famous Herbert Fisheries Fish & Chips, where fresh catches are loaded straight from some of the few remaining commercial fishing boats left in the Lake and turned into delicious fast-food style meals and smoked fillets. For a small fee boats can be launched here. But watch out: there is an overhead hydro line just off the ramp, and for any sail boats with masts higher than twenty feet or about, it is impossible to rig up your boat at the parking area next to the ramp and then launch. Launch first, and then setup the mast with the boat in the water.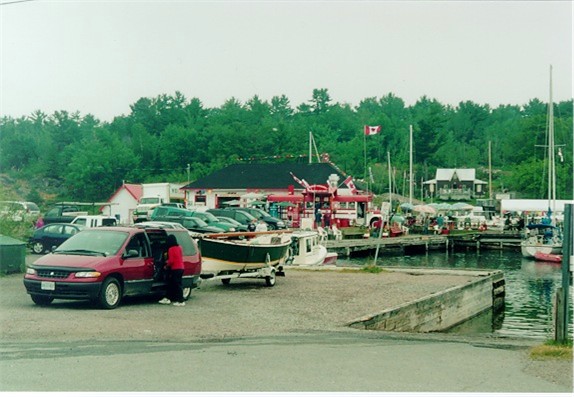 Town Dock, Boat Ramp
From the boat ramp it requires motoring about 1 km up the channel, either east to the open Georgian Bay, or west to Killarney Bay. Sailing up the narrow channel is doable but tricky, as boat traffic is often heavy. This is the only place to launch our boat to reach our campsite nestled in the Bay, a 15 minute boat ride. Here is a view of the channel sunset.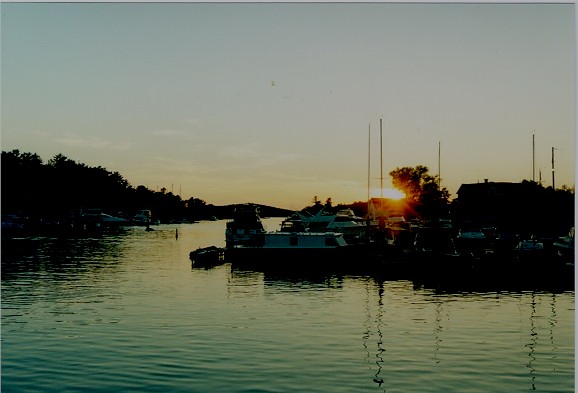 Sunset, Killarney Channel
One afternoon we sailed from our campground, motored out to avoid the submerged shoals and tall grass guarding the waterway to our dock, and turned north to sail up Killarney Bay. Once past the area sparsely populated with a few summer cottages, this eastern tip of the bay is uninhibited and the sheltered stretch of turquoise blue-green water provides a sense of sailing in natural wilderness. Surrounding the bay is part of the La Cloche mountain, which have peaks at 200 meters and are tall by Ontario standard. This part of the lake is well sheltered from the open water of northern Georgian Bay. To the west is the entrance to the fabled Northern Channel where boat traffic is relatively heavy, but to the east the bay is often deserted. On this quiet summer day, wind is light and we sail up the eastern tip of the bay, miles of water around us with no other boats. The bay gradually narrows and ends at a small inlet. We lower sails and turn on the motor to head up the slow-running river to explore. The river winds through wooded areas and marshes, widens and then narrows, and eventually ends in a marshy bay surrounded by limestone cliffs. We turn the motor down to a slow murmur so as not to give offence in this quietness. Tall marsh grass gently sways as a cool breeze comes off the mountain. A setting sun casts an orange glow on white quartzite ridges, reflecting off the green water and broken by small ripples. Civilization seems very far away.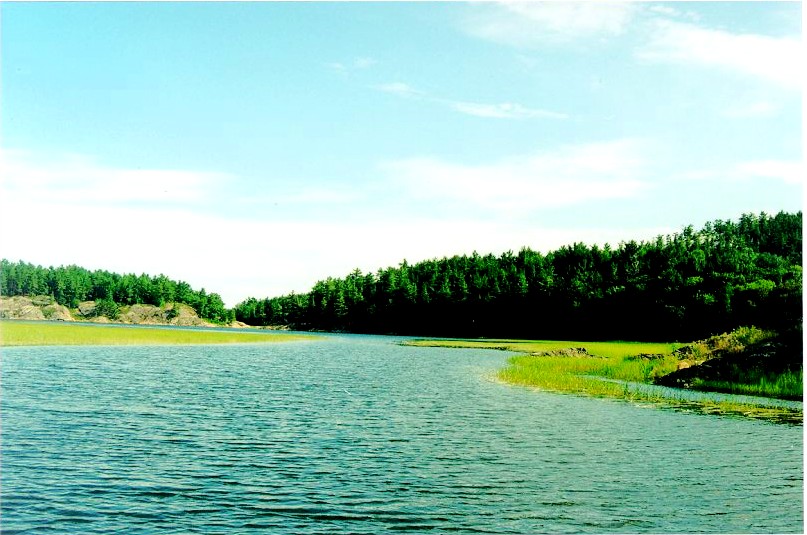 Killarney Bay