Day 2 Milford Bay
The next day was another beautiful day, sunny at 25 C with forecasted 20 km wind. We decided to head towards the northern part of the lake for more open water. There are at least six public ramps around the entire Lake Muskoka. We picked the one off Milford Bay, north of Bracebridge, off hwy 118. Just off Milford Bay is Beaumaris Island, where the large number of palatial 'cottages' made this stretch of the Lake to be called 'Millionaire's Row'. The docking facility is excellent, with a large parking lot, a long boat dock, and washrooms. The waterway off the dock is also wide enough to sail to reach open water. However, one must head north to get out as the southern part of this channel is blocked by a low-lying bridge. With the prevailing wind coming from the north, it means a lot of tacks. But once you get beyond the waterway the lake opens up and it's gorgeous sailing from that point on.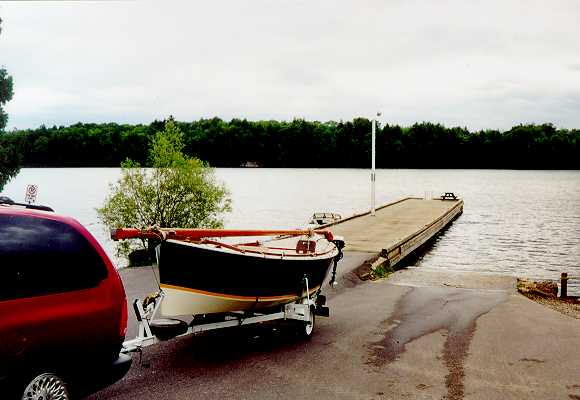 Boat Ramp at Milford Bay
After a light lunch we started out under very light wind. The forecasted 20 km wind was no where to be seen, but that was fine with us – perfect for taking it easy and to admire the multi-million dollar cottages. There are volumes of books and magazines documenting the architectural beauty of these cottages. Here's a few of them.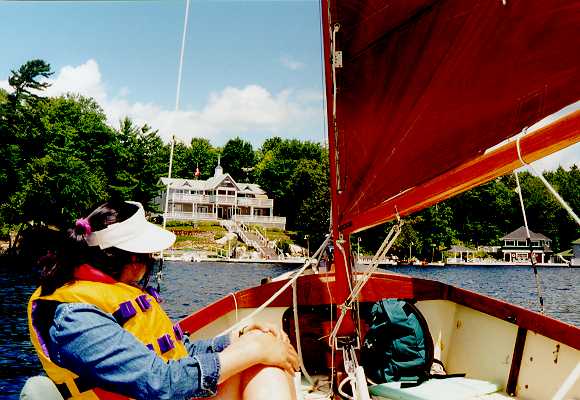 Muskoka Cottage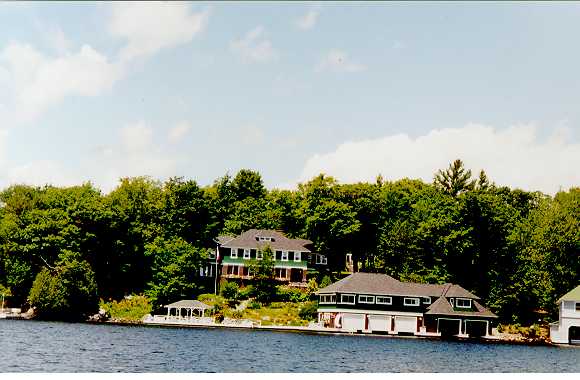 Another Muskoka Cottage
We headed south on a gentle run. There were almost as many float-planes landing and taking-off as power boats. Of course you need one of these to get to your cottage quickly. Here's one that just kept circling us. They were either very interested in watching the Hen, or they were practicing the art of low level flight in the vicinity of a floundering sailboat.