Muskoka Sailing Trip July 9-11, 2001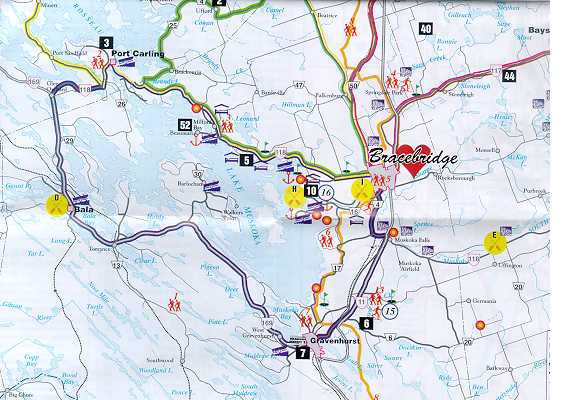 Day 1 Gravenhurst
On a beautiful summer week in July we went to Lake Muskoka to experience the famous cottage life of the Muskoka area. The summer playground broadly referred to as Muskoka Lakes actually consists of over 1,600 lakes, with Lakes Joseph, Rosseau and Muskoka being the biggest. The three big lakes are perfect for water-based activities, and we took the Marsh Hen for a three-day trip with mainly sailing in mind. We stayed at the Wit's End Bed & Breakfast, about 6 km north of Gravenhurst. We've found B&B to be a good compromise between the high expense of hotels and the low comfort of camping. Ideally we would like a waterfront B&B with boat docks, but those are hard to come by. Another option would be to rent a slip at one of the lakeside marina or at the Gravenhurst town dock, but slips typically run at around $30 per day. After all, hauling the boat in and out of water and spending 60 minutes each day for rigged and de-rigged is not too big a job!
With Bed & Breakfast Hosts
We arrived at the B&B at about 1:00PM, and after unpacking and a bit of rest, there was time left for a late afternoon sail. It was a blustery day with 30 km wind, and we decided to start at the small bay around Gravenhurst. There is a public boat ramp just past the town off highway 169. It was not the easiest to find, but it is free! The boat ramp is at the end of a long row of covered boat slips, with a rocky shore on the other side. This waterway of about 500 ft. is too narrow to sail through and one needs to peddle or use a motor. Muskoka Bay is a small, sheltered bay leading to the open part of Lake Muskoka. Dotted by small islands and narrow channels, with the resulting shifting wind, this stretch is similar to Conestogo Lake and club members will find sailing conditions just like home! It took us 90 minutes to sail through the bay area and into the open Lake, mostly beating upwind. It was great sailing, but the numerous tacks did have a tiring effect, so we turned around on a run under winds that were still moderately strong even as the evening approached. After a quick supper, we were just in time to catch the famous Muskoka sunset by the water.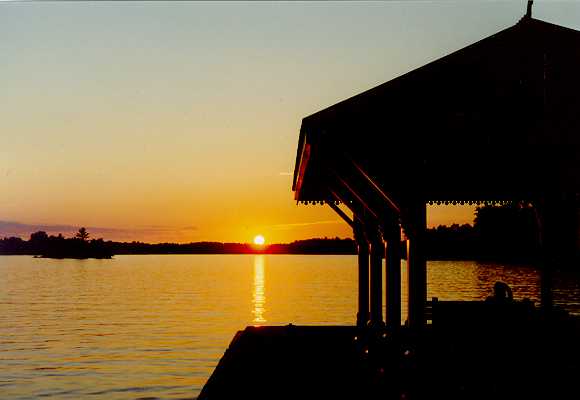 Muskoka Sunset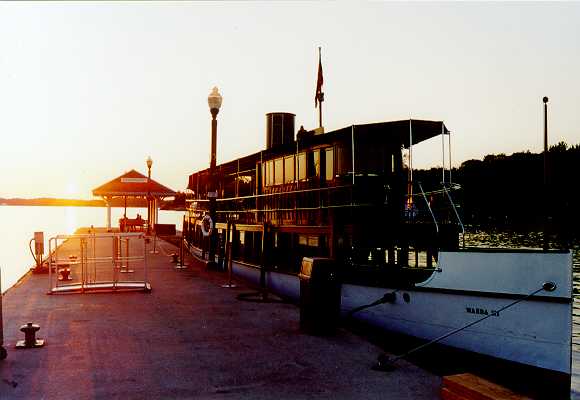 Sunset Cruise