A 14-day Cruise Around Georgian Bay: From Barrie to North Channel
In mid-August we embarked on a two-week trip to explore the shores of Lake Simcoe and Georgian Bay. It would be a nice sailing trip to sail from Midland to North Channel, if you have a larger sailboat. In our case we cheated – we trailered Three Rivers to get there faster (much faster!) so we could spend more time at each location.
Barrie
Boat Launch: 4é Excellent. The public boat ramp has a large area for setting up rigging, with two concrete ramps in excellent condition. There are plenty of docks to tie down your boat while you put your car away. Public parking is nearby. The fee is reasonable. The only down-side: it can be busy with lots of power boats going out and coming in.
Sailing: 4éExcellent. Barrie is located off Kempenfelt Bay, a large, deep-water bay sheltered from the open water of Lake Simcoe. Once away from the busy harbour, boat traffic is relatively light and sailing can be enjoyed by boats of all sizes. The bay is large enough that wind is not always channeled up and down the bay, so one is not stuck always sailing either up-wind or down-wind.
Scenery: 3é Good. The shore line is dotted with houses, some are large, impressive mansions. So if you are looking for 'unspoiled' natural scenery, you won't find it here. After all this a highly populated area only an hour drive from Toronto.
Amenities: 4éExcellent. The harbour has a beautiful park, a large sandy beach, with full washroom and change room facilities. Downtown Barrie is only ten minutes walk away, where you can find plenty of choices for restaurants and shops.
A beautiful day at the boat ramp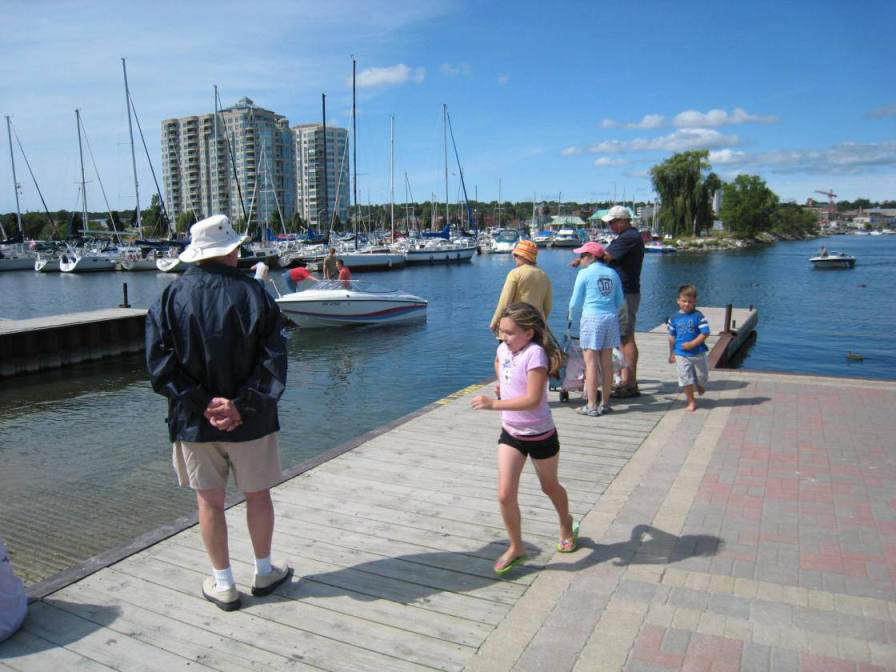 On this beautiful Saturday afternoon, traffic at the boat ramp was moderate and we quickly rigged up Three Rivers and launched her. I had called the mariner office and reserved a transient dock for two nights, so the first stop for the boat was to motor up to the dock, single-handed. There was a cross-wind at about 2-3 knots. I was still green at backing up the boat with the electric motor and had too much speed. The dock and the boat had an aggressive kiss, leaving a big scratch on the side. What a start!
The transient slips are at the entrance of the marina, so there's a bit of boat traffic. The dockage itself is very nice, with a locked gate. The neighboring boats are all large power boats. And I thought I've built a big yacht!
Three Rivers nuzzled among large yachts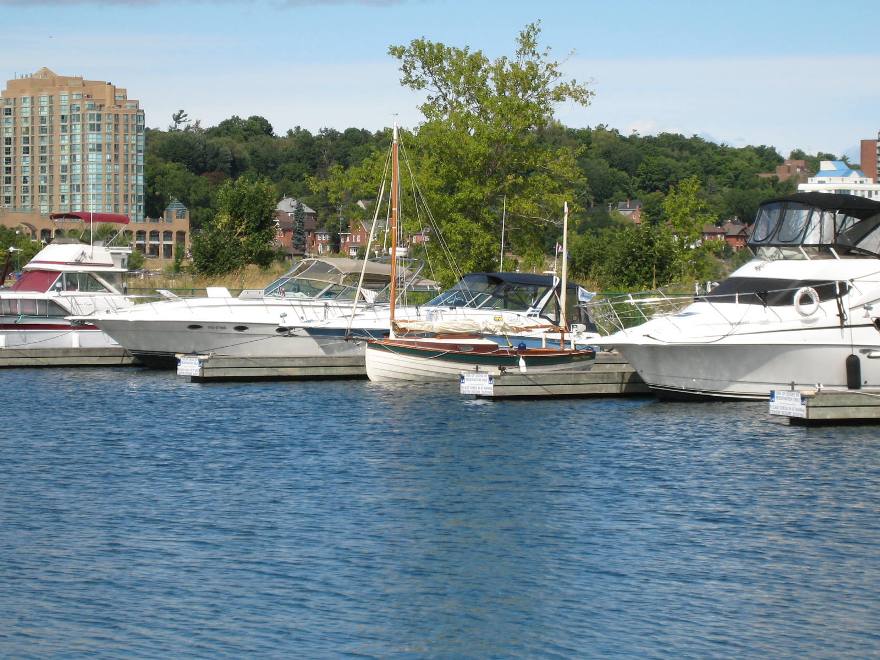 In the afternoon we had a beautiful sail around the bay under a nice steady breeze, in the company of some large sailboats. Kempenfelt Bay is a large, long bay about 15 km of mostly upwind sailing before one reaches the open water of Lake Simcoe. Content with sailing on the flat water of the bay, we tacked back and forth to check out sceneries on both shores, and passed by some beautiful estates such as this one: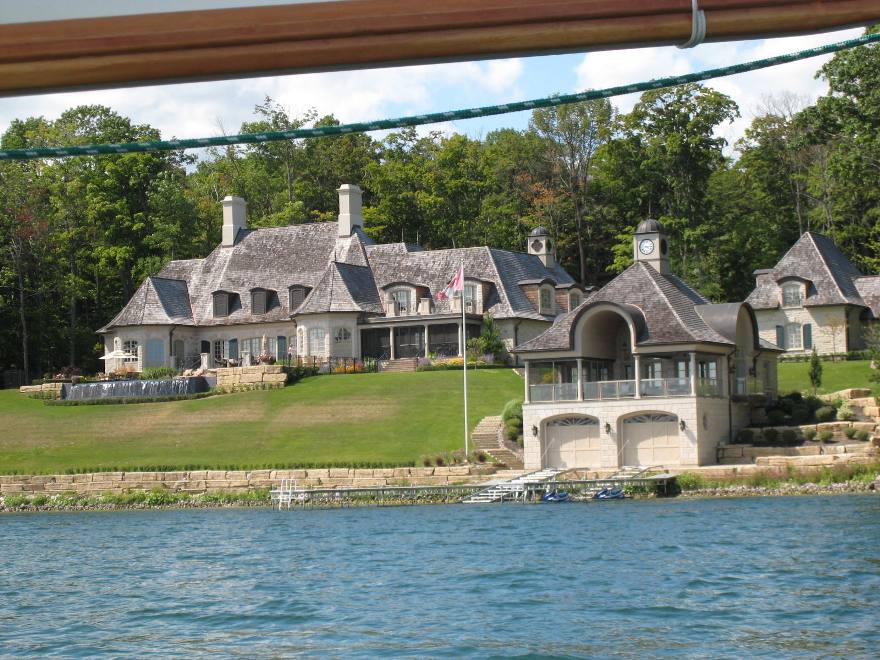 We spent a restful night in our cozy cabin. Three Rivers has a wide beam and the V-berth is the size of a double bed. This is the first time we have an overnight berth at a marina and it was an interesting experience. Next to our boat were all large cabin cruisers. Fortunately the summer night was cool and there were no noisy air conditioners running. The next day was another beautiful day, and we had a leisure breakfast in the morning, sailed around the bay in the afternoon, and further rewarded our hard work with a nice dinner at an Indian restaurant, followed by ice cream and a stroll along the beach in the evening. I can get used to this lifestyle!
A day at the beach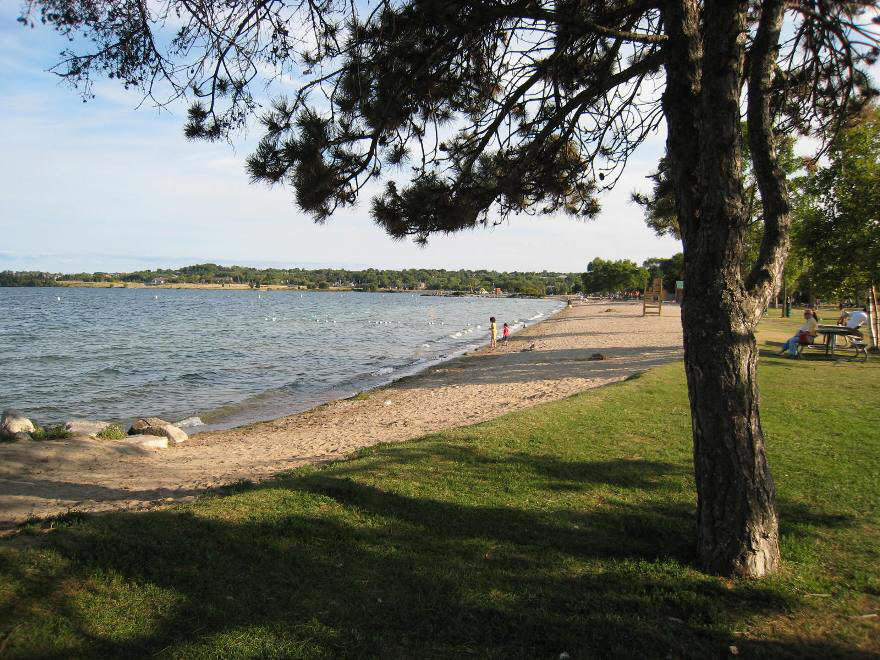 Heritage Park, Barrie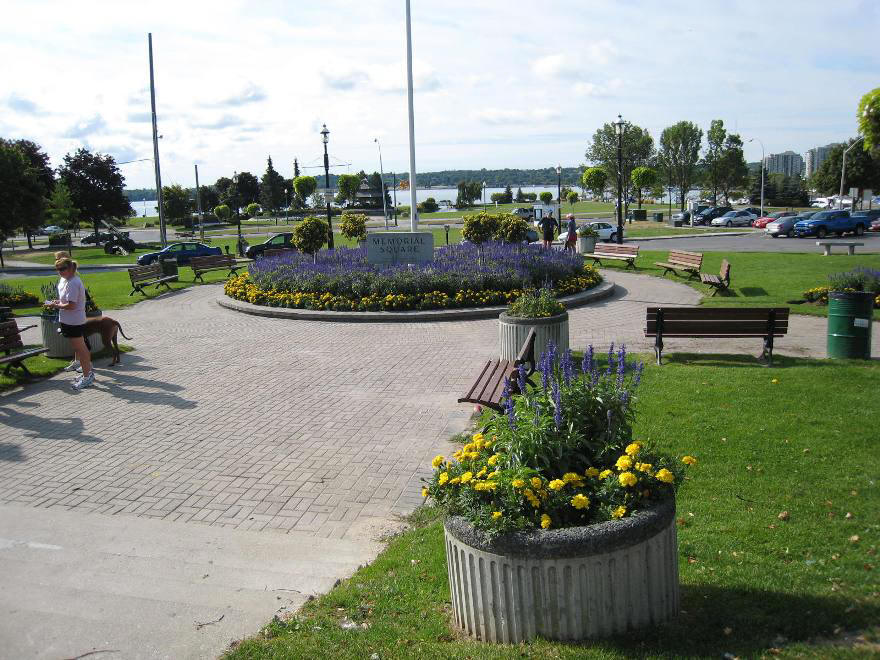 Return to Ben Ho Sailing Home Page