Midland to Beausoleil Ben Ho Fall 2007
Boat Launch: 3ť Good. The public boat ramp at Midland is not the easiest to find Ė itís by a city park next to the Bay Port Yachting Center. There is sufficient space for boat-rigging, with plenty of parking, and the ramp is free. The wide concrete ramp is in good condition and well sheltered, with temporary docking space for several dinghies. The only downside is that there is a narrow waterway of about a 100 meter to reach the bay, and boat traffic can be heavy.
Sailing: 4ť Excellent. Midland Bay opens into Severn Sound, and this stretch of Georgian Bay water is one of the best sailing grounds in Ontario. The roughly ten square kilometers of pristine water provides hours of sailing fun and can be challenging when the wind pipes up. Within a few hours of sail one can reach several cities Ė Penetanguishene, Midland, Port McNicoll, and Victoria Harbour, providing destinations for day trips and makes sailing-cruises more interesting.
Scenery: 3ť Good. The southern part of the bay is well populated, but to the North lies Beausoleil Island, a National Park with wonderful sceneries.
Amenities: 4ť Excellent. The city of Midland is a small city, popular with tourists in the summer. All the amenities are there, including some very good restaurants.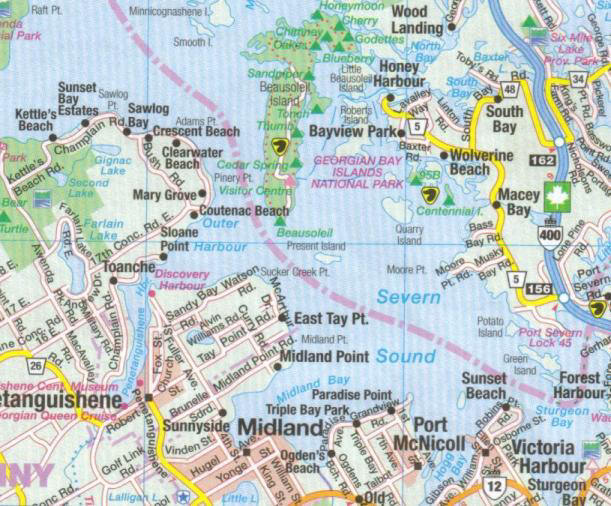 As we departed Barrie, clouds began to thicken and the air was moist and wind started to pick up. The summer of 2007 has been unusually dry, until this week. Forecast calls for unsettling weather for the next 14 days Ė the exact duration of our trip. It was late-afternoon when arrived Midland, and after a while we found the boat ramp and rigged up Three Rivers. It has been a windy day and the bay was choppy. We booked a berth at Bay Port marina, and I wanted to launch the boat and get to the dock before dark. Although the marina is very close to the boat ramp, to get from the ramp to the marina requires going out into the open bay and then enter the break-water of the marina. Waves blown by the strong south wind were pounding the shores. I was glad I had an 8 HP outboard driving Three Rivers through the surf, and with it's relatively heavy displacement the boat sliced through the rough water and felt very secure.
Harbour entrance to Bay Port marina, on a calm day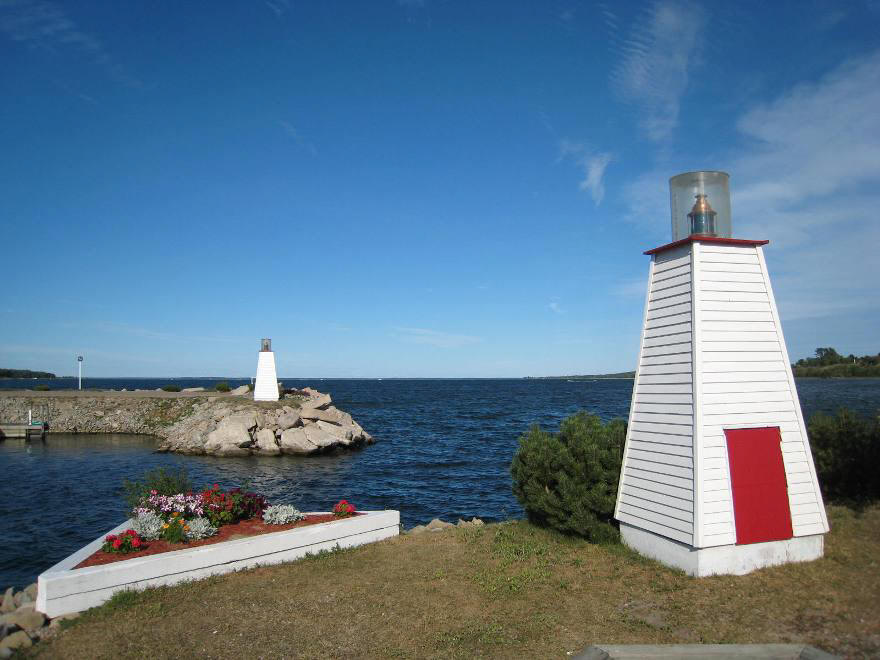 Maneuvering a larger boat through a crowded, unfamiliar marina is another learning experience. We managed to locate our berth and docked the boat with no incident this time, despite the challenging cross-wind. Relieved that everything went well so far, we rewarded ourselves with an early dinner in the city.
By 6:00PM the sky was clear, and the wind settled to about 10-12 knots. Looking out to the bay we could see the water still choppy with white caps, but it should be manageable. So we rushed back to the marina and set out for a late-afternoon sail. Itís now late August and day light was getting shorter, but thereís good light until 8:00PM. We motored out the break-water and through the 1 meter surfs, and, being conservative, put one reef in the main and left the jib furled. Sailing close-haul into the wind and out Midland Bay, the boat sliced through the chop with very little pounding. Under a beautiful blue sky with the setting sun reflecting off white caps, we had an exhilarating sail. This was the most demanding sailing condition for Three Rivers yet, and she behaved beautifully, moving through the waves at hull speed, occasionally charging into a larger wave and leaving a foamy wake. This was one of those sailing trips that would be remembered for a long time.
Beausoleil Island
Beausoleil Island is directly north of Midland at a distance of about 15 km. This island is part of the Georgian Bay National Park, and itís been made a national park for good reasons: The rugged, glacier-carved landscape is absolutely spectacular, and the sense of isolation and serenity as a result of the island being accessible by boats only makes it even more endearing. This is one of our most favorite camping-sailing areas. Even in August, in the middle of high season, visitors are few and camp sites and boat anchorage are easy to find. Camping facilities are first-class here: some camp sites have a raised wooden deck platform or a fine sand-base (as the ones in the picture below), with sheltered picnic huts with stone fire hearths to provide warmth and cooking space.
Sandpiper Bay Campground, Beausoleil Island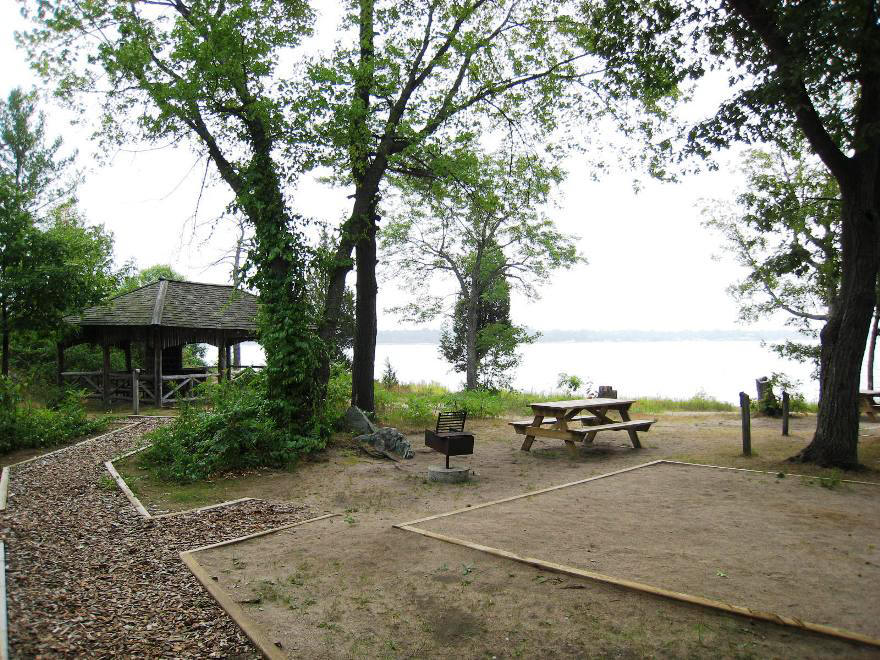 We set out from Midland on a cool, misty morning. A light wind from the West was driving us at a leisure pace of 3 knots, but the wind was shifty and continued to drop, and about half-way we had to start the motor. We reached the main campground Cedar Spring by noon. There are full washroom facilities at this campground, but we prefer the other smaller camp grounds which are quieter and have better anchorage. There is a fee for mooring, and a slightly higher fee for docking at a boat slip. After some searching, we settled on this quiet spot near the Sandpiper Bay campground. Forecast promised rain for the next several days, so I had the chance to try out my custom-made cockpit enclosure. Made of Sunbeller top and Cotton Duck for the sides, the enclosure provides complete shelter from wind and rain and turns the large cockpit into a living room/kitchen. It worked quite well, except that without a metal frame to stretch the fabric bar-tight, there are spots where rain collects into small pools, and eventually water drips down. Oh well.
Three Rivers at Anchor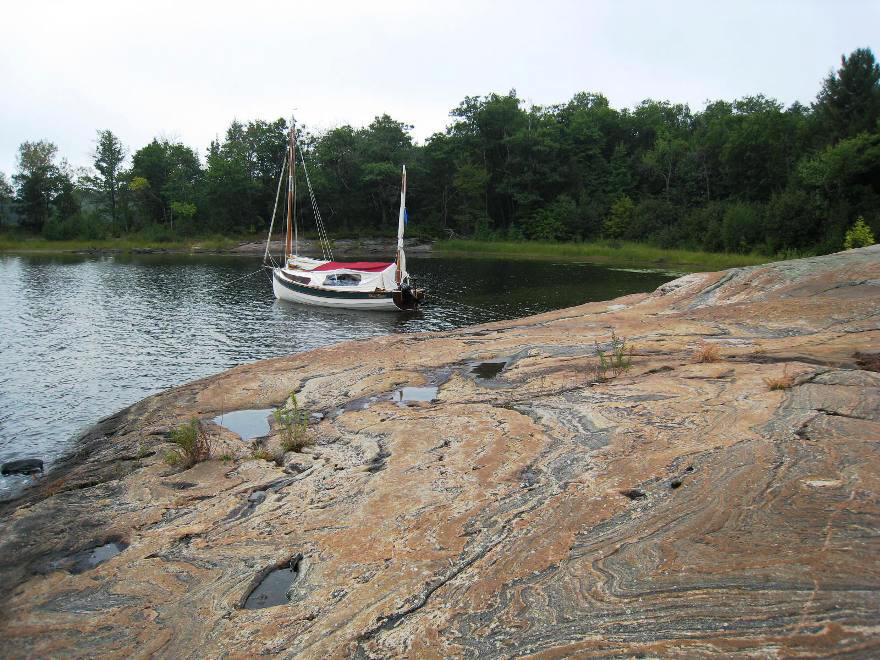 We camped here for the next two days hoping for the weather to improve, but it remained overcast and drizzly. Not much sailing to be done, but the park has many excellent hiking trails that lead to breathtaking sceneries:
Hiking trail at Beausoleil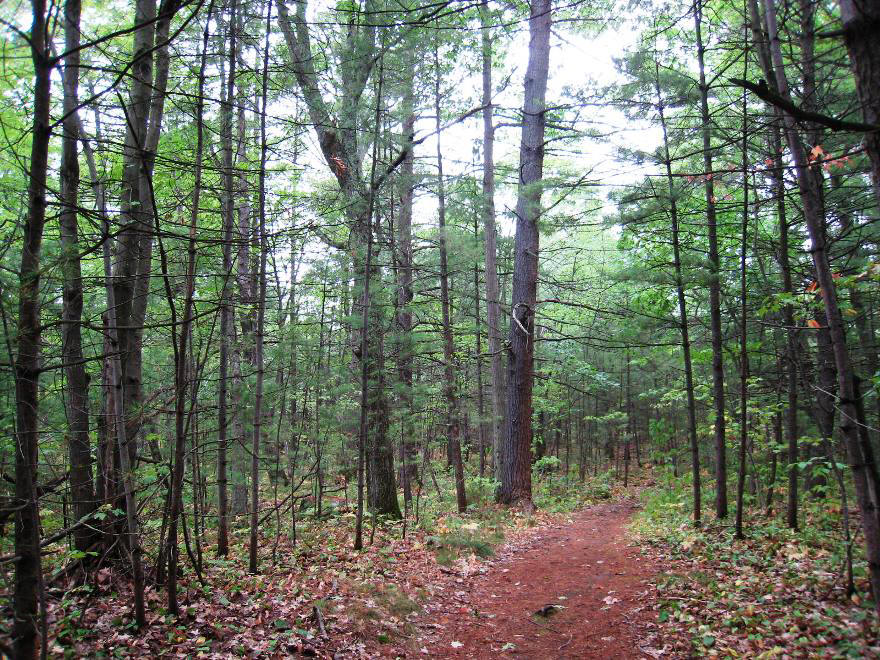 The shores along the island have many nice sandy beaches and bays. The water off the northern end of the island is very sheltered and is good for dinghy sailing. There is a YMCA camp on the Island running a sailing camp, and on this drizzling day with a slight breeze, we watched several small sailboats from the YMCA camp flying colorful spinnakers, delighted shrieks from youthful sailors echoing around the quiet bay.
Some of the bays have long slips and are popular with larger power boats and houseboats. If one doesnít mind the noise and smell from generators running their air condition and stereos, thatís probably where the parties areÖ
Chimney Bay docking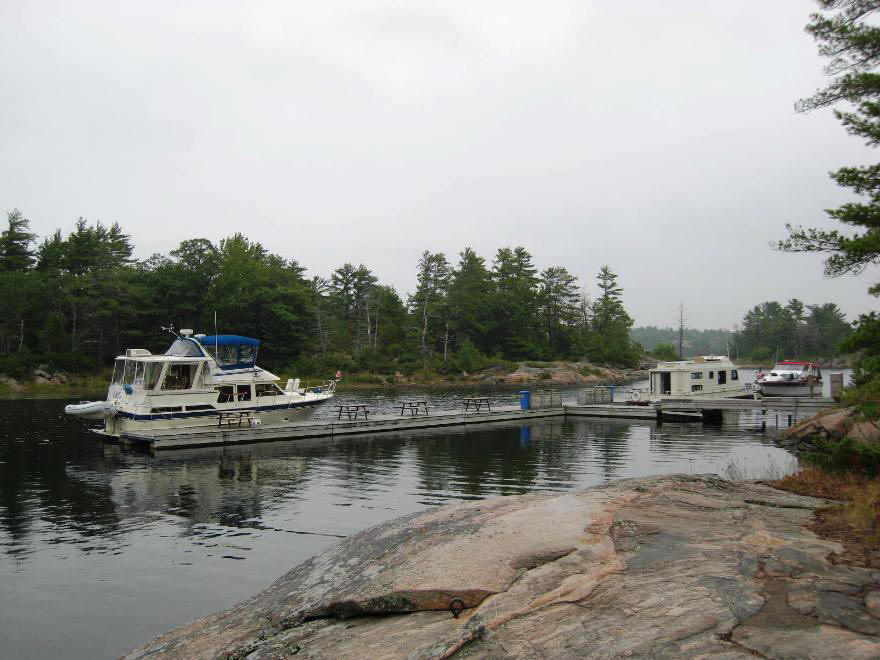 The rest of us seek anchorages at quiet, isolated bays, and delight at coming upon beautiful rock formations such as this: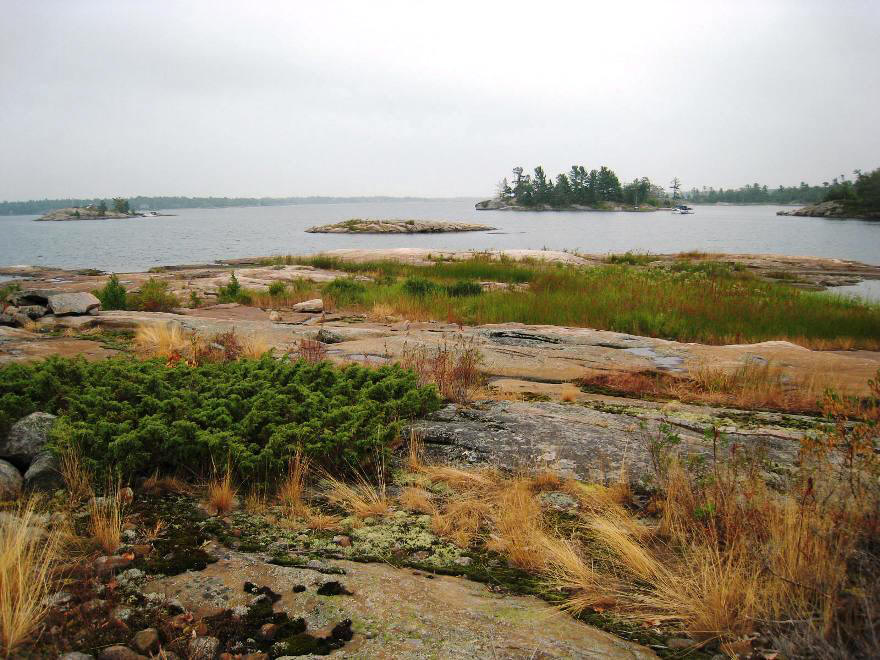 After staying at Beausoleil Island for two nights we headed back to Midland in light winds. Still hoping for the weather to improve and to do more sailing around Severn Sound, we stayed at Bay Port for another night. The weather did not improve, but we found a very nice restaurant in town and rewarded ourselves for the good camping trip with an excellent dinner. The Library Restaurant used to be a library, and is located in a grand old stone building that was built in the early part of the last century. We were determined to come back to Midland for more sailing, and for more great meals!
Continue to North Channel Trip
Return to Ben Ho Sailing Home Page